Location and Contacts for the Festival
Send Us A Message
If you would like to volunteer to help plan the event or book a stall for your business or organisation, the event is the largest one in the area and attracts the attention of lots of local people, politicians and businesses so it is definitely worth contacting us about opportunities.
Please please do NOT email us to try and sell us services (esp web design or SEO) as you will just go on the spam list.
Lend a hand on the day
We have also created an online sign-up page for people that can lend a hand on the day. (or of course you can email us via the form above)
Berrylands Festival, Stirling Walk, Surbiton, (near) KT5 9HY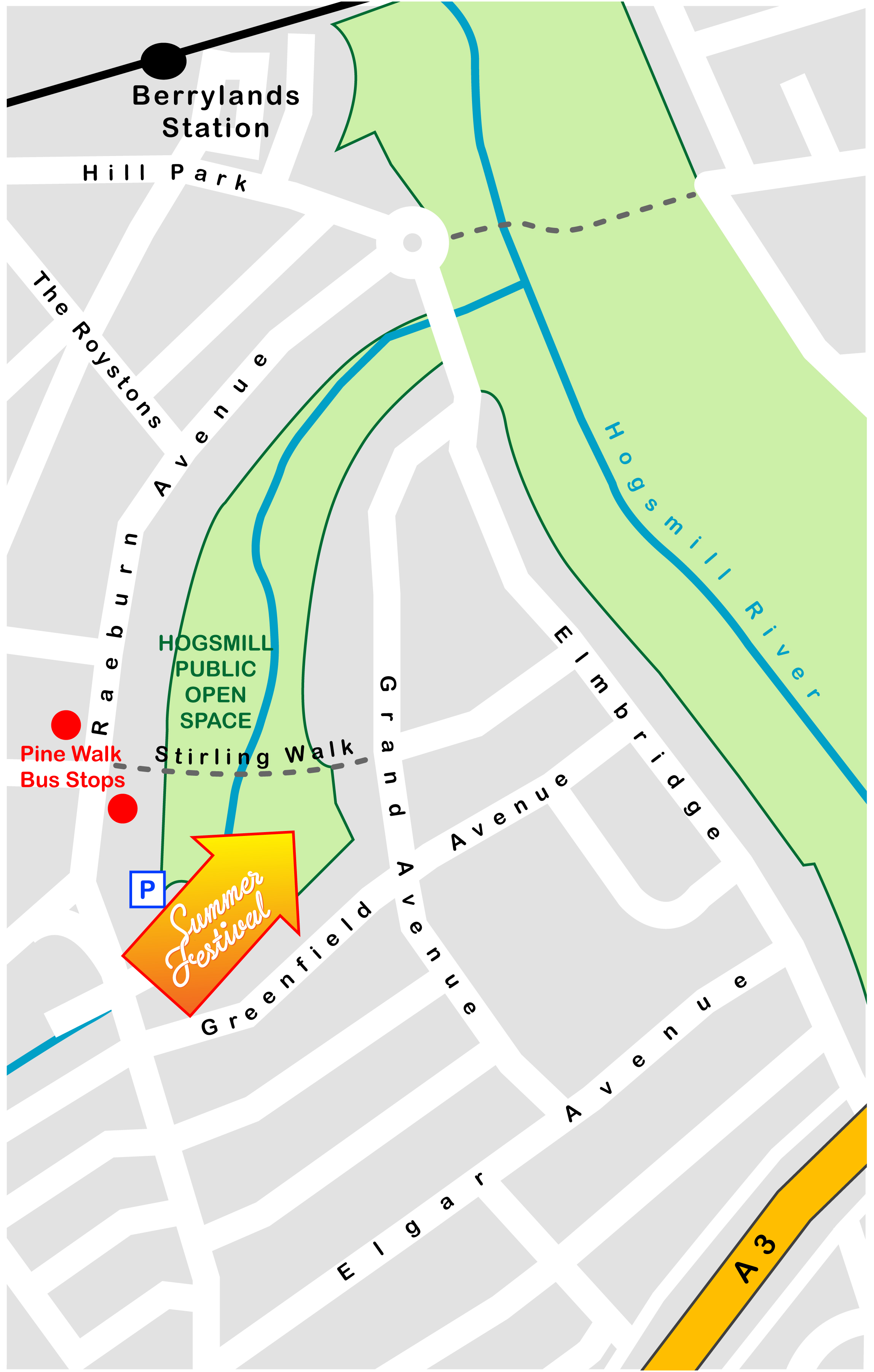 Getting to us
By Train
We aren't as far away as you may think. Berrylands station is a 15 minute walk or you can hop the K2 bus from close to the station around to our stop at Pine Gardens. The K2 covers both Surbiton and Tolworth stations too.
By Bus
The K2 bus runs from Kingston, past both Surbiton and Berrylands stations right up to within a very short walk of the festival. The K2 also runs from Hook and past Tolworth station and the Tower and up Raeburn Avenue.
The stop you want is called Pine Walk and within a few metres of that you will see fire gate across Stirling Walk. Just follow the music down that path.
By Car
From the A3: Exit at the Tolworth roundabout and go all the way around and start going back on to the A3 towards London, but just as you go behind Tolworth Tower you take the first left and follow the road up to a mini roundabout where you will go virtually straight on (Raeburn Avenue) past the car dealership and you stay on this road for about half a mile until you reach the shops. The car park at Meldone Close is nearest the festival and this is on the right hand side just as you hit the small parade of shops.
Parking: There is no parking on site so you must use the free car park next to Meldone Close or park in the surrounding streets, but as the event is popular we really would recommend using the bus or train if you can. If you do drive then please park considerably or we will lose our licence.